PROBLEM STATEMENT
People want to pass on their life values to help the next generation, but their busy lives often prevent them from doing so until it's too late. To tackle the problem, we explored the question:
How might we design something to help people curate and pass on their life stories to their loved ones?
ROLE
Research & Prototyping Lead
TEAM MEMBERS
Catherine Jou, Kaiting Huang, Ting-wei Chang, Yitao Wang
Project SPONSOR
Minerva Interactive
Since digital products and services have become omnipresent in our day-to-day life, we knowingly or unknowingly save lots of life stories as intangible data in local drives or in the cloud. As a result, digital legacy is getting more and more relevant for both people and their loved ones. This project aims at finding a solution to help people curate and pass on their digital legacy.
In our primary and secondary research, we found out that life values and guidance are the most meaningful types of legacy compared to other physical or digital possessions. In addition to that, important life events, such as having a newborn or experiencing the loss of family, are the key triggers for people to start their legacy planning. With those key findings in mind, we explored possible solutions through several rounds of ideation and user testing.
Finally, we arrived at the final design, StoryJar - a storytelling platform that allows multi-generational people to connect and share life stories. The system covers different steps in the storytelling process, including prompts, capture, curation, and consumption. Additionally, unlike other storytelling platforms that focus on sharing everyday moments with the public, StoryJar aims at helping people to pass down valuable life lessons to a custom group of people.
research process
At the beginning of our research, our goal was to understand the psychological and logistical factors that affect how people people handle their physical, digital, and intangible assets in preparation for and after a loss of life. Our first design question was:
How can we help people be more prepared for a potential death by facilitating their interactions with each other?
To address this question, we looked into the following four domains: end-of-life, mourning, remembrance, and legacy. Our objective was to learn as much as we could about how people prepare for their death financially, emotionally, and spiritually. We were also curious about how people curate their life stories, and how they want to be remembered. In the latter half of our research, we further narrowed our focus to the domain of legacy and honed in on one final design question:
How do we help people pass on their life lessons and personal values to their loved ones?
We conducted the following research methods over the course of 10 weeks:
Literature Review & Competitive Analysis: A look at existing articles, products, and services in the legacy and storytelling domains.
Expert Interviews: Interviews with 8 experts in the following domains: digital legacy, law & estate planning, policy & social science, hospice care, grief counseling, psychotherapy, and historical reenactment.
Participatory Observation: We attended a Death Cafe gathering hosted by a local chaplain.
Focus Groups: We conducted two focus groups with 6 individuals to learn about what kinds of legacy are considered meaningful by the bereaved. We took the groups through card-sorting and scenario discussions based on the participants' own life experiences.
Semi-Structured Interviews: We interviewed 10 participants, ages 22-60, to try to understand how attitudes of mortality and death evolve over time, and also what is meaningful for curation and remembrance
KEY RESEARCH THEMES
Evolving awareness of death
Conversation about death
Preparation for death
Obtaining closure
Bequest & redress
Key research Findings
Key life events/milestones are triggers for legacy planning.
Life values and guidance are meaningful types of legacy.
People want to help the next generation to succeed.
Remembering a deceased loved one's life values can help a person reflect on their own life.
Creative Prompts
We came up with a set of design prompts to help inspire creative ideas during our brainstorming sessions. Some of these include:
What would it look like if talking about death was as easy as talking about travel experience?
How can we take advantage of natural intervention points to get a person to plan for their death?
How can we make conversations about death a widely social and entertaining experience?
Ideation Methods
Thumbnail Sketching
We generated 76 initial ideas inspired from our design prompts.
Stakeholder Map
We created a map of key stakeholders interacting in the system.
BRAINWALKING
Our group voted the original 76 ideas down to a top 9. We then used a method called brainwalking to both individually and collaboratively work together to flesh these ideas out.
Storyboarding
We then created storyboards of our ideas in order to put them into the context of possible scenarios: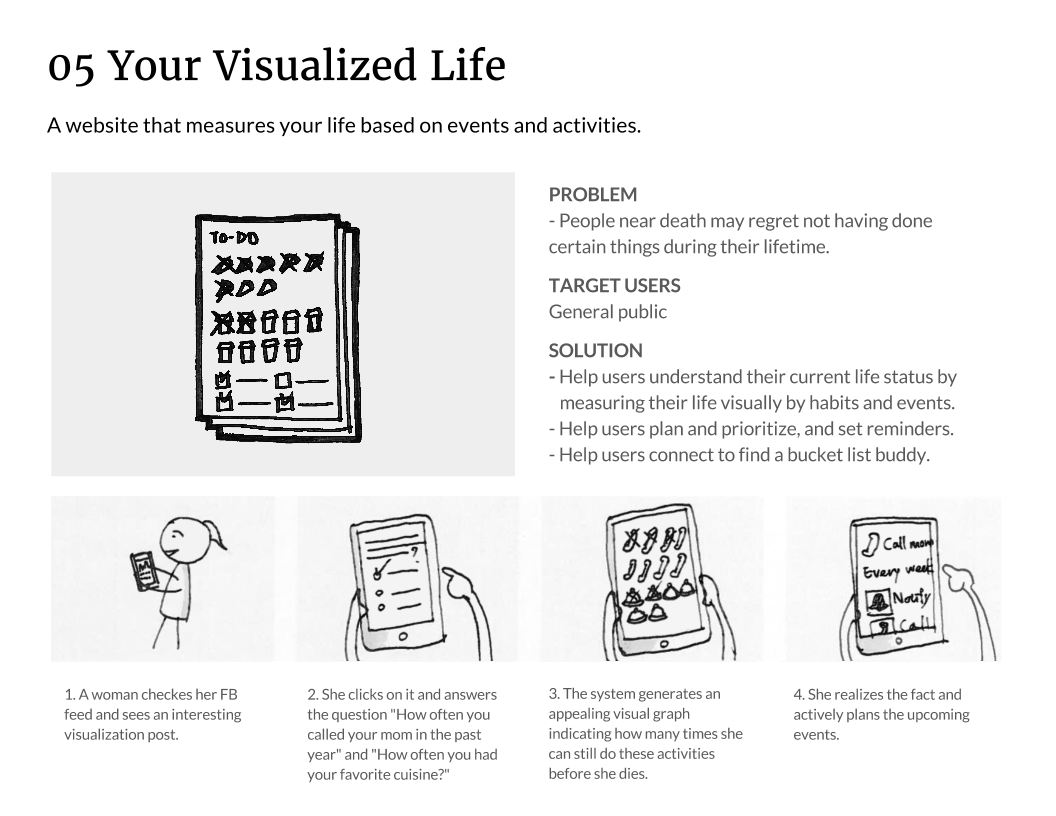 Idea Selection
As a team, we came up with three criteria that we felt carried the most important goals for this project:
Curate stories to share with loved ones
Create an engaging and fun experience
Pass on life values to descendants
After mapping our top 9 concepts to a matrix, we decided to focus on ideas focused on preserving life stories among family and loved ones. As a result, we narrowed down to a top three: In-house Stories, Meaningful Aesthetic Artifact, and Family Fables.
Ultimately, we decided to drop the first two because we realized that people's most important stories are not necessarily attached to physical objects, and that virtual or physical copies of an object tend to be less valuable to the user than the original.
That helped us hone in on our final idea direction, Family Fables, a service that facilitates family to curate, tell, and pass down family stories.
Concept Refinement
Design Principles
Here are the four design principles that our final concept is built upon:
Use life events as the major trigger point to bring people to prepare their life legacy.
Instead of documenting trivial life events, help people focus on telling stories with life values.
Our design needs to be inclusive and appealing to cross-generational users.
Provide a space where people can easily consume the life story of their deceased loved ones.
Design Inspirations
To set our final concept apart from the existing platforms, we dug more into our research findings and social media resources regarding storytelling. The following are some key inspirations that led to the prototype design
Inspired by a TED talk "Wisdom from great writers on every year of life" by Joshua Prager, we realized that using quotes to summarize life stories is an insightful way to help curators reflect on their lives deeply.
We recalled in our research that the survivors have deep emotional connections with the voice recordings of the deceased.

We learned from our research that starting a life story can be a daunting task, so we should provide users with prompts.
Prototype 1
We started building our first prototype as a mobile app covering the following features: prompts, compose a story, search, inbox, profile, and family tree. We mapped out the key interaction flows included in the first prototype, and built a set of wireframes after sketching the screens out on paper.
The interactive digital prototype can be viewed here.
We divided our user testing into two parts. The first part focused on designing effective prompts, while the second part focused on the usability testing of our first prototype. We wanted to find out what kinds of prompts (questions, quotes, photos) best help inspire people to tell stories, and whether the content of the story differs based on its visibility. We also wanted to see if the user could manage to compose a story, and also find specific stories and add new members to the family tree with the flows that we provided.
To ensure sure that the testing plan would work, we also conducted a pilot round of the user testing with one participant. The video walkthrough of the pilot testing is available here.
Prototype 2
Based on the findings we got from the 1st round of user testing, we made tweaks to our design which include:
A story composing flow with fewer steps required, and A/B tested it against the original flow.
Instead of having users search for stories by question, have them search for stories by topic.
The user is able to update the relationship and living status of non-immediate family members.
The interactive prototypes for the second round of testing can be viewed here (flow A), and here (flow B).
For the usability testing for prototype 2, we wanted to find out which the composing and writing flow made sense to the user, whether the user is able to find stories responding to a specific topic, and whether the user is able to update the living status of an existing user.
Findings
For the prompts design, our major findings include:
Participants wanted the ability to control who they shared a specific story with.
Participants mostly wanted to share positive stories about themselves and others.
Photos tended to be used as illustrations for pre-selected stories, rather than being used as a source of inspiration.
For the usability testing, key usability issues that participants surfaced include:
On a mobile phone, having fewer steps to finish composing a story makes more sense than giving each step a page.
To find relevant stories, participant didn't see "search" as the direct entry point, they went to "inspiration" or "request" instead.
A mobile application is good to start or capture story on the go, but laptop or tablet might better facilitate the composing flow.
Design Modifications
Based on the findings we got from our prototype testing, we made major modifications to our initial designs, which include:
We realized that to create a space for people to write their life stories, our product should exist on multiple platforms. We added tablet and laptop in our final design, since phone and tablet are good for story consumption and laptop is easier to compose a story.
To make the composing experience less daunting, we allow users to reach out to others for help during the writing process.
An improved UI experience which connects the concept of circles of people sharing stories to an existing metaphor of wisdom jars.
Product Description
StoryJar is a storytelling platform that helps capture, preserve and share your life stories and values with your loved ones and future generations. The platform includes these four key actions: prompt a user to start a story, capture stories, curate and organize stories, and present stories in a way that can be easily consumed.
Product Video
The video prototype for StoryJar is available here.
The video shows how StoryJar enables users to share their stories and wisdom across multiple generations. The father in the video knows that the grandmother has life experiences that can be passed down, so he sends her a story request via our platform. The grandmother then composes her story and records the takeaway. Finally, the daughter reads the story from her grandmother and gets inspired by her life experience. This simple scenario illustrates the key outcome of our product: passing on life values and legacy through a story.
System map
There are four key actions involved during the user experience: prompt, capture, curate, and consume.
StoryJar is a platform for cross-generational users to share and request life stories. To help inspire stories, our system provides prompts which include story requests, system-generated quotes, questions and Facebook life events or highlights. Users can also reach out for help to compose their story. The system curates stories by the circle of people or category it belongs to. In addition, a concise takeaway recorded in storyteller's voice is provided.
User Flow
To dissect the functionalities of StoryJar, we refined the user flows into an overview interaction model:
We also refined and the user flows for each major feature of the system. Detailed level of the user flows include:
Feature Specifications
We presented the product, StoryJar, at the MHCI+D Capstone Summit on August 17th, 2016. The team was also invited to present to the Creative Studio team at HTC on the following day. The deck of our final presentation slides is available here.
During the Q&A session, we had an in-depth discussion with the audience regarding how this platform can be used. Our answers clarified the product design and also addressed future possibilities for StoryJar. Some interesting questions that surfaced include:
How can you make sure users' stories are safely preserved forever? We envision the user can backup/download the stories via Google Drive, and we could potentially provide a service to print hard copies of family storybooks to pass down.
Have you considered providing life values and lessons from famous people or professionals? Although our product is more focused on passing down legacy within family, we have considered providing a section where stories can be shared publicly and/or anonymously. This can encourage people to engage with StoryJar more often, due to new content being availble more regularly.
We also received some great suggestions for further improvements down the road. One particularly interesting direction is the prospect of repackaging the platform to be used for corporate leadership training. Executives of companies are tasked with passing down a company's core culture and values to both management and new employees. If approached from this angle, there might be higher business value for the product. Another possible angle could also market it as a medium through which families can share and pass down home recipes.
Over the course of this project, we faced many challenges as a team that became valuable lessons about how to work effectively with others. At the beginning of the project, we took a broad, sweeping approach to both research and ideation. We were not able to easily focus on one direction since as a team we had differing individual design preferences. As designers, we naturally want to design something that makes sense to ourselves.
However, everyone's preference and sense of design highly depends on our life experiences and our own view toward the world. During the process, we found out that instead of spending a significant amount of time discussing which solution is the best, it may be faster and more objective to just build a prototype and test it, since prior to user testing it can be difficult to avoid personal bias and false assumptions. Overall, it is important to keep in mind that as product designers is to design for users, and not just for ourselves!
Lastly as a disclaimer, the UW MHCID Story Jar team would like to acknowledge our discovery of a similarly named project thestoryjar, which was discovered after our own project concept and design work was already submitted. While the core purposes of the two projects are different (ours is centered on passing down values and legacies), due to the coincidental similarity of the product name and metaphor, we believe it is important to acknowledge that similar ideas (and this goes for any design in general) may exist out there various forms.